Read, The "Day After Disaster" – Revisited, by Craig DeAtley
Listen to Podcast, Nuclear Preparedness – Is the United States Ready?
 Despite planning scenarios that predict the dire consequences of a 10-kiloton nuclear detonation, the actual results are still unimaginable. An April 2014 flash poll of DomPrep readers suggests that political leaders have given up on the unthinkable nuclear threat and that dusty old civil defense manuals may be the best solution for addressing the nation's lack of readiness. In the first 72 hours following a nuclear blast in a major metropolitan city, survivors would face many challenges – response, leadership, evacuation, health-system readiness, collaboration, and communication. Five years after the filming of the History Channel's "Day After Disaster" in 2009, the nation's level of preparedness for a nuclear attack remains questionable. In fact, more than 90 percent of respondents reported that the nation is not prepared for such an attack (Figure 1). This article is a compilation of the anonymous responses shared by emergency planners, responders, and receivers.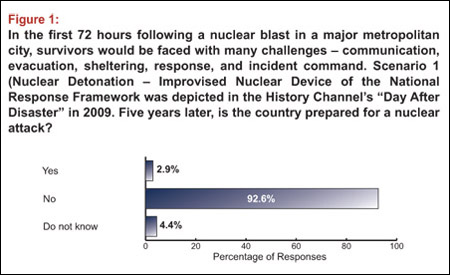 The 10-kiloton nuclear detonation scenario outlined in the National Response Framework is for most people "beyond comprehension." Any low-probability, high-consequence incident is difficult to fully prepare for because there is no, or very little, historic data to use when predicting the magnitude and effect of such disasters. An aging infrastructure could lead to an even larger geographic area of destruction and disruption of critical resources.
Response Efforts & Leadership
The location and severity of the incident also makes it difficult to accurately predict and plan for a nuclear detonation. As a result, the responses may vary significantly in different metropolitan areas – for example, Louisiana's response to Hurricane Katrina in 2005 compared to New York and New Jersey's responses to Hurricane Sandy in 2012. Even when larger cities have access to information and conduct trainings, the knowledge and skills often do not spread to smaller cities and towns.
A high-consequence incident in a major metropolitan city may require regional response efforts and resources from surrounding smaller jurisdictions, so they all need to be at the table during the planning process. Unfortunately, if one or more widespread detonations occur, then outside resources also would be in high demand, thus reducing the quantity of resources that would be available under normal operating conditions. In some circumstances, private companies as well as city and county agencies may choose to restrict sending supplies and personnel to avoid depleting their resources in anticipation of another attack.
Although the U.S. Department of Homeland Security (DHS) has yet to implement an improvised nuclear device (IND) strategy across the agency and between federal agencies, the federal government has made some progress in centralized planning since 2009, for example:
DHS, Strategy for Improving the National Response and recovery from an IND (Improvised Nuclear Device) Attack, March 2010
National Security Staff and Office of Science and Technology Policy, Planning Guidance for Response to a Nuclear Detonation, 2nd Edition, June 2010.
DHS, Response and Recovery Knowledge Product: Key Planning Factors for Recovery From a Radiological Terrorism Incident, September 2012
Federal Emergency Management Agency, Improvised Nuclear Device Response and Recovery – Communicating in the Immediate Aftermath, June 2013
Report to the Chairman, Committee on Homeland Security and Governmental Affairs, U.S. Senate, Nuclear Terrorism Response Plans, September 2013
The U.S. Department of Defense may be the only agency with the personnel, equipment, training, logistics, and command structure to manage this type of attack, but all agencies and organizations would play a role in protecting their cities. The Rad Resilient City Initiative, published in September 2011 by the Center for Biosecurity of UPMC (now the UPMC Center for Health Security) in Baltimore, Maryland, laid out a plan with a checklist of seven actionable items to help cities and regional partners prepare for radioactive fallout:
Obtain broad community backing and understanding of nuclear incident preparedness to sustain the program over time;
Conduct an ongoing public education program to inform the public about the effects of a nuclear detonation and how they can protect themselves;
Enable building owners and operators – from individual householders to skyscraper managers – to assess shelter attributes and to teach others;
Strengthen the region's ability to deliver actionable public warnings following a nuclear detonation through well-chosen technologies and organizational procedures;
Establish a rapid system for mapping and monitoring the dangerous fallout zone to specify which residents need to take what protective action;
Develop planning strategies and logistical capabilities to support a large-scale, phased evacuation; and
Integrate, test, and conduct training on the above elements of a comprehensive fallout preparedness and public warning system.
After years of model development, some agencies may have a better understanding of the likely effect of an urban nuclear detonation, but most local governments still do not understand those consequences. DHS has invested millions of dollars in grant funds to upgrade New York City's ability to respond to – or possibly prevent – a nuclear threat or attack, but most cities are not nearly as prepared.
Regardless of the agency or organization, leadership is an ongoing concern, especially where politics and popularity may carry more weight than skills and knowledge. Effective leaders bring together both the public and private sector stakeholders. However, many current partnerships do not include private physicians or many of the private companies that should be at the table. Without solid private-industry buy-in, some assets may not be available at the most critical times. In the case of a nuclear or radiological incident, any lack of solid planning and business continuity models would expose significant gaps in planning and response.
Special Concerns & Healthcare Readiness
Lessons learned and training during the Cold War are still relevant today. Unfortunately, many of those who are familiar with those emergency management lessons and trainings are beginning to retire in large numbers. Now may be a good time to "dig out some of the training manuals and books we learned from in the 60s, 70s, and 80s." Excluding some advancement in radiation treatment, much of the information about effects of radiation and nuclear devices have not changed significantly over the past few decades.
Evacuation is another area of concern, as unpredictable factors such as debris and wind direction would affect the ability of communities to evacuate. Large metropolitan cities would have to rapidly move large quantities of people – including those with special needs who may or may not have plans for care or evacuation. Children and other vulnerable populations raise additional evacuation concerns. For cases when evacuation could exacerbate the situation, all populations must be aware of and trained on when and how to shelter in place.
Survey respondents also reported gaps in healthcare preparedness. All levels of management must be informed and trained, which may include the need for training mandates and/or standards for leaders. Individual healthcare agencies require sufficient funding and a high level of commitment to prepare for the large roles that they play in emergency preparedness – coordinating, planning, and exercising. Unfortunately, these agencies often must focus on their busy day-to-day operations, thus delaying preparedness priorities. Even when regional mass casualty and mass fatality plans are in place, integrating them with healthcare agencies can be problematic. Providing enough guidance to create effective and responsive healthcare coalitions may help close the gap.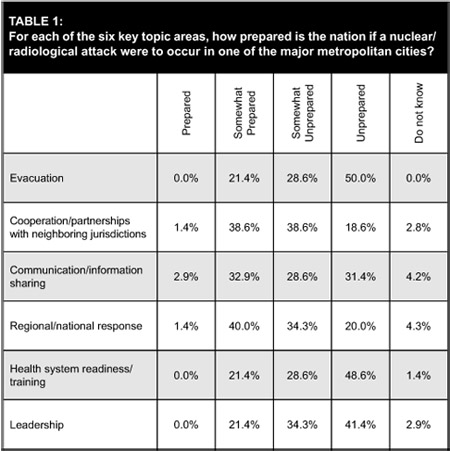 When agencies must choose between the many priorities they face, there is little or no time to train specifically for low-probability, high-consequence threats such as a nuclear detonation. It may be difficult to retain or reinforce the lessons learned over time even if training is available. The preparedness levels of sectors within each jurisdiction vary greatly from prepared to unprepared (or underprepared). A thorough risk and threat analysis would help identify the tasks within each sector that require immediate or delayed attention.
Information Sharing & Communication Disruptions
Some information is available only on a need-to-know basis, but that should not be the case when preparing for or responding to a nuclear or radiological attack. The fear of such attacks, coupled with lack of accurate information, would produce additional fear and concern and would change the dynamics of the incident response. Compounding the situation, communication systems may become inoperable during a disaster. A nuclear blast could even compromise redundant communication systems.
Most people in the United States are dependent on cellphones, Internet, and other electronic forms of communication, but are not prepared for technological disruptions. An electromagnetic pulse could cause a catastrophic failure of the power grid. For critical infrastructures that use microprocessors – for example, transportation, communication, and utilities – restoring capabilities could become a lengthy and costly process. Jurisdictions should consider improving the physical protection necessary to prevent an electrical grid collapse that, in turn, would hinder regional assistance and recovery efforts.
Exactly how a nuclear attack would affect the nation is uncertain and some of the survey responses were grim:
"Working in the field, what I see in preparedness does not comfort me."
"I think all 'bets' could psychologically be off the table."
"I believe we are all on our own."
"We would truly be screwed!"
On the other hand, "If it is a one- or two-device detonation, then the U.S. infrastructure is still in place for assistance. It would be severely damaging and economically disruptive, but the U.S. would get through it. Think of New Orleans after Katrina."
As most emergency managers already know, there is no simple answer to the question, "Is the nation prepared for a nuclear attack (or any other catastrophic incident)?" However, equipped with the skills to facilitate, communicate, plan, make decisions, and lead, emergency managers should be able to maximize the commitments that various agencies, organizations, and even individuals make to the emergency management process to answer confidently, "We are as ready as we can be."
"Day After Disaster" – Five Years Later
In 2009, the History Channel's documentary, entitled "Day After Disaster," addressed the scenario of a suitcase nuclear detonation in a major metropolitan city. On 9 April 2014, Craig DeAtley, director of the Institute for Public Health Emergency Readiness at MedStar Washington Hospital Center, revisited the topic in an article that prompted a DomPrep poll about the preparedness level of the nation for such an attack. DeAtley then led a panel discussion on 21 April 2014 that brought together subject matter experts – including three from the 2009 documentary – to address the above concerns and progress in nuclear preparedness over the past five years. Listen to what these experts are saying now about the nation's level of preparedness to respond to this type of catastrophic disaster: http://bit.ly/NucPrepare14 (LINK NO LONGER ACTIVE)
Catherine L. Feinman, M.A., joined Domestic Preparedness in January 2010. She has more than 30 years of publishing experience and currently serves as editor of the Domestic Preparedness Journal, DomesticPreparedness.com, and the DPJ Weekly Brief, and works with writers and other contributors to build and create new content that is relevant to the emergency preparedness, response, and recovery communities. She received a bachelor's degree in international business from the University of Maryland, College Park, and a master's degree in emergency and disaster management from American Military University.