The evolution of drug smuggling and related crimes in south Florida can be viewed through one family and their many criminal associates. The Barker Family entered the smuggling business in the 1970s and transitioned from marijuana to cocaine and illegal aliens by the 1990s. Through drug and alien loads, broad conspiracies, and multiple deaths, the smuggling group was active, successful, and notorious. This is an account of old school Florida smuggling through the long thread of one small family. It is a bit of a history lesson and a fascinating journey back in time.
Chapter 1
Before the days of the Cocaine Cowboys, Scarface, and Miami Vice, there were the local old school drug smugglers in south Florida. They smuggled marijuana before the explosion of cocaine in the late 1970s and 1980s. The smugglers were fisherman, recreational boaters, and stoners that established diverse contacts in the maritime environment in Florida, the Bahamas, and around the Caribbean. At times, these successful maritime smugglers advanced into the air smuggling of much larger drug loads directly from Colombia and Jamaica to cut out the middleman and increase their tidy profits.
The demand for marijuana was high and the odds of interdiction were low in the 1970s and early 1980s, at least until the beginning of the expanded federal war on drugs. They smoked pot, so why not smuggle it too for some extra money and an endless supply? It was their gateway drug for consumption and entry into the drug smuggling world.
With the close proximity to the Bahamas, other Caribbean islands, and South American coastline, maritime and air smuggling flourished from the 1970s to 1990s following closely in the footsteps of their Prohibition era forerunners – the rum runners. Operating in the smuggling culture of the times, there was a successful drug smuggling family in the south Florida area that transitioned from marijuana to other drugs and later illegal aliens. However, marijuana remained one of their primary products – at least for their many documented arrests and prosecutions.
The small Barker Family had been associated with or involved in narcotic smuggling since the 1970s. The accusations stemmed from numerous confidential informants, investigations, arrests, prosecutions, and media accounts. They resided in Florida and operated in its maritime environment with many other subjects, suspects, and suspicious boat captains. In addition, the Barker Family worked with prolific air smugglers operating in Colombia and around the United States. Never seeming to learn or truly care, the arrest of Barker Family members and their wide-ranging associates did not reduce their continued criminal activities. After the many arrests, prosecutions, and light sentences, recidivism was much more prevalent than deterrence or rehabilitation within this broad network.
The story of this one family provides an educational and enlightening description of the progression of drug smuggling in south Florida from the 1970s to 1990s. They were an active criminal enterprise for decades exploiting inefficient and ineffective enforcement procedures, methods, and laws.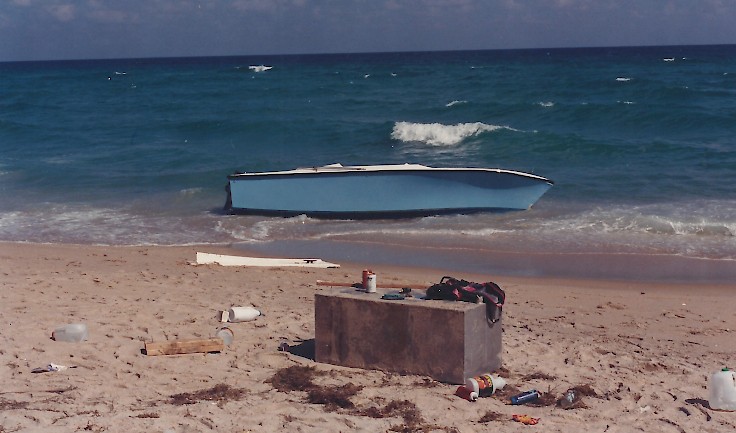 An Old Florida Family
The Barker Family had been in Florida for well over a hundred years. This was especially unique for an ever-growing state with such a transient population. According to a newspaper article about the Barker Family, Orrin Cecil Barker's grandfather drove 600 head of cattle from Kansas to Ocala, Florida in the 1870s. After the drive, he decided to stay in Florida and raise a family that included O.C. Barker born in 1881. O.C. Barker married Edna P. Barker in Ocala and had four daughters and four sons – including Orrin Cecil Barker (Cecil Barker), who was born in 1914 in Ocala.
Cecil Barker moved to West Palm Beach in 1925 with his family, and there he later raised his own family. He had a daughter and two sons with his wife Minnie Lee Barker. Ronald Cecil Barker (Ronald Barker) was born in 1939 and Richard Bennett Barker (Richard Barker) in 1951. Cecil Barker, also known as "Skeet," later moved with his family to Daytona Beach and worked in central Florida for a time before returning to Palm Beach County to run a nursery.
The residency and travels of the Barker Family, defined as Cecil, Ronald, and Richard for this story, can also be documented through their individual State of Florida automated arrest records summarized below (arrests do not equal convictions unless noted). It is a way to establish the arrest history for the family members and it begins to paint a picture of their criminal activities and skills that extended well beyond Florida over decades. It is a brief snapshot to begin this much broader story.
Cecil Barker's first documented arrest in Florida was in 1964 for fraud by the Palm Beach Sheriff's Office (PBSO). It was followed in 1964 with a forgery arrest and 1965 with a probation violation. He was sentenced to 30 months in state prison in 1965 for the forgery charge. He was released from incarceration in 1966. He was arrested again in 1981 for trafficking marijuana by the Sumter Sheriff's Office. In 1983, he was arrested for marijuana conspiracy charges and received just under a year in jail and ten years of probation. Cecil Barker was arrested in 1985 for contempt of court for failing to fulfill his sentence, in 1992 and 1993 for probation violations, and in 1993 during the importation of 170 pounds of marijuana.
Ronald Barker's first documented arrests in Florida were in 1963 and 1964 by PBSO for fraud, and in 1965 for probation violation. He was arrested again for fraud in 1970. After St. Johns Sheriff's Office charged him with marijuana and fugitive charges associated with one of his federal marijuana smuggling cases, he was arrested in 1978. He was arrested in 1979 by the Orange Sheriff's Office for fugitive charges for another federal marijuana smuggling case. In 1982, he was arrested by PBSO for trafficking in marijuana and received five years in state prison. He entered prison in 1983 and was released in 1985. Ronald Barker was arrested, with Cecil Barker, in 1993 during the importation of 170 pounds of marijuana.
Richard Barker's first documented arrest in Florida was in 1985 by the St. Lucie Sheriff's Office for failure to appear for a traffic violation. His next and last documented state arrest in Florida was by PBSO for the possession of cocaine in 1992, for which he received a year of probation. His actual criminal activities extended far beyond his documented state criminal history. Barker would be arrested several times for serious and diverse out-of-state and federal smuggling violations as detailed in this story.
Ronald Barker, older than Richard by 12 years, was not as well-known as his younger brother by law enforcement and the media in south Florida. There was more media coverage of Richard Barker's youth and activities due to his higher profile arrests in the 1990s. This did not mean, though, that Ronald Barker was not an accomplished and experienced drug smuggler. He was just on the radar in the 1970s outside of south Florida.
Richard Barker, who would later be the primary smuggling organizer of the family in the 1990s, graduated from John I. Leonard High School in Lake Worth in 1970. He later attended Palm Beach Community College and University of Florida, where he allegedly entered into his first marijuana smuggling experience from Jamaica when he ran out of weed in college. The ease and profits of the marijuana smuggling initiated a new profession.
Friends and close associates described Richard Barker as a good-hearted and talented musician. Rather than pursuing a musical career in the early 1970s, Richard joined the family business, which reportedly involved fishing and shrimp trawlers. Apparently bored with the indoor office work side of the family business in the early 1980s, he wanted to spend more time at sea. According to media accounts, this is the same time that the Barker Family started appearing in law enforcement and court records in south Florida. This is when Richard Barker began maintaining residences in Palm Beach County and the Bahamas to better organize smuggling and other activities.
The Barker Family and their associates were often observed socializing and planning smuggling ventures with other boat captains and airplane pilots at several popular bars and marinas in the Lantana and West Palm Beach areas. These bars were popular in the maritime environment and well-known as hangouts for fishermen and old-school marijuana smugglers in the 1970s and 1980s. They were dark, hole-in-the-wall establishments with long, tall wooden bars covered in layers of varnish and spilled drinks. You could just hear the various Jimmy Buffett songs about drinking, fishing, smuggling, and pirates playing in the background when you entered these bars and saw their wide-ranging clientele. The Barker Family and the other patrons were good old boys often looking for business, not all of it legal.
In the next chapter, read about the Barker Family's first known Colombian drug smuggling capers.
Robert C. Hutchinson was a former police chief and deputy special agent in charge with the U.S. Department of Homeland Security (DHS), Homeland Security Investigations in Miami, Florida. He retired in 2016 after more than 28 years as a special agent with DHS and the legacy U.S. Customs Service. He was previously the deputy director of the agency's national emergency preparedness division and assistant director for its national firearms and tactical training division. His numerous writings and presentations often address the critical need for cooperation, coordination, and collaboration between public health, emergency management, and law enforcement, especially in the area of pandemic preparedness. He received his graduate degrees at the University of Delaware in public administration and Naval Postgraduate School in homeland security studies. He is a long-time contributor to Domestic Preparedness and serves on the Advisory Board.