Chapter 14
The Barker Family story continues. Click here to read Chapter 13.
Arrest in the Bahamas and the Life Sentence
In November 1998, Bahamian police arrested a subject in Freeport, Bahamas matching the description of fugitive Richard Barker. The man, carrying false identification in the name Richard McMann, was boarding a private aircraft bound for Eleuthera, Bahamas when stopped by Bahamian officials. The subject was confirmed to be Richard Barker, who was ordered to be returned back to the United States.
Barker was escorted from the Bahamas by three U.S. Drug Enforcement Administration (DEA) agents based in the Bahamas and turned over to U.S. Customs Service (USCS) investigators at the Miami International Airport on November 12, 1998. Barker was once again held without bond for the pending federal charges.
Unceremoniously, Barker pleaded guilty in federal court in March 1999 for the new drug charges and absconding from supervised release. According to Barker's attorney, the plea appeared to be the best way to minimize the penalty – the charges carried a maximum of life in prison. During the court hearing, Barker stated that he never saw an assault rifle on his boat during the cocaine transfer. He was sentenced to life in federal prison in June 1999 for the new convictions in conjunction with his previous criminal history. The government was also seeking the very unlikely restitution payment of $21,224 for the damage to the undercover motor vessel.
And the Beat Goes On
The smuggling accusations and investigations did not stop with the final incarceration of Richard Barker. Several law enforcement agencies in the Fort Pierce area continued to investigate the Barker Family remnants and linked smuggling organizations. It was time to mop up the last ones.
An investigation of U.S. Coast Guard (USCG) Petty Officer Michael Miller was initiated when his fellow crew members alleged that Miller was selling USCG operational information to drug smugglers. Pursuant to the investigation, Miller was arrested in June 1999 with Michael Roberts and Robin Smith for the smuggling of 700 pounds of marijuana and 20 kilograms of cocaine. Roberts reportedly paid $1,000 to a Fort Pierce reserve police officer for the use of his boat for the smuggling venture from the Bahamas – an innocent third-party owner. Roberts was to pay an additional $15,000 to the reserve officer after the successful importation.
The borrowed motor vessel landed at Fort Pierce Inlet State Park to unload the narcotics into a waiting van. During the takedown of the suspects by law enforcement, the van fled and crashed through two police barricades before the tires were shot-out by law enforcement. According to prosecutors, Miller and Roberts were involved in at least three previous marijuana and cocaine smuggling ventures in 1998. Miller pleaded guilty and was sentenced to nine years in prison and four years of probation in 2000. The arrests and prosecution dovetailed into a larger investigation targeting the Barker Family associates, which would result in additional fruit in the following couple of months.
Three more suspects were arrested in August 1999 by the USCS office in Fort Pierce during the smuggling of 512 pounds of marijuana and five pounds of cocaine via motor vessel from the Bahamas. Two Bahamians and a suspect from Miami were caught offloading the drugs into a van from the arriving boat along the Saint Lucie River. Law enforcement had been conducting surveillance for three days waiting for the importation. The arrest was a continuation of the effort to dismantle the Barker Family associates.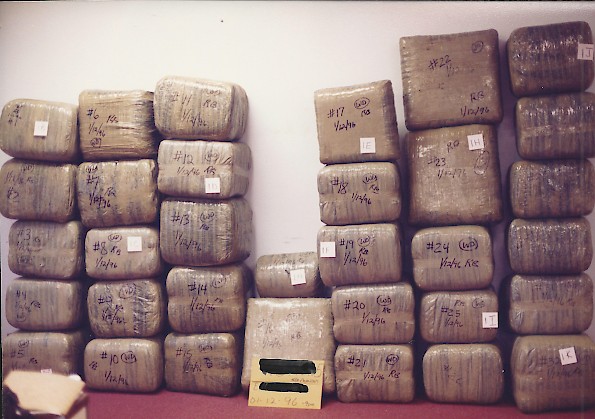 One month later, Richard Patrick Ankiel, Phillip P. Kennedy, Cindy L. Rohn, and Dale Jackson were charged with conspiracy to distribute marijuana and cocaine in September 1999. Ankiel and others had been linked to the Barker Family, also known as the Captain Jump-Off smuggling network, by the U.S. Attorney's Office in Fort Pierce. The charges were the result of a year-long investigation by the USCS office in Fort Pierce into the Barker Family.
The defendants were well-known by law enforcement and the courts. Ankiel had been arrested 14 times, with six convictions, since his first arrest in 1975 for possession of marijuana. Kennedy, Ankiel's son, had been arrested 28 times in six years to include rape, burglary, and possession of cocaine and marijuana. Jackson has been arrested 16 times in 28 years to include possession of explosives with intent to do harm.
Ankiel ultimately cooperated with the federal government, including the prosecution of USCG Petty Officer Miller. He pleaded guilty to two counts of conspiracy to possess with intent to distribute cocaine and marijuana in September 1999. Ankiel was sentenced to almost six years in prison and six years of probation in March 2000 for smuggling marijuana and cocaine from the Bahamas to Florida. He was granted a 120-day delay until he was scheduled to start his prison sentence. However, once he tested positive for cocaine and later was found with a gun, he was sent immediately to prison. According to the Federal Bureau of Prisons records, Ankiel was released from custody on August 3, 2005. Kennedy was sentenced to seven years in prison.
Dale Jackson was sentenced to 30 years in prison and five years of probation. This was not his first involvement in a narcotic smuggling organization. Jackson had been arrested in 1988 with 12 other subjects associated with the legendary Pinder Ring. The Pinder smuggling organization was very well-known to law enforcement in the United States and Bahamas. Almost every federal agency and many police departments in Palm Beach County had at least one case on the Pinder smuggling organization.
Claude Avon Pinder, the Pinder Ring leader, was part of a family-operated drug smuggling organization whose criminal roots dated back to gun-running and Prohibition days. Pinder, Lanny Basil Pinder, Milton Keith Pinder, and 19 others were indicted in May 1988 by a federal grand jury. A Federal Bureau of Investigation (FBI) drug investigation documented the importation of 15,000 pounds of marijuana from Colombia through the Bahamas into south Florida between February and December 1985. The organization was thought to be responsible for smuggling 100,000 pounds of marijuana and 2,500 pounds of cocaine since 1982. According to court documents, Claude Avon Pinder allegedly controlled a network of 150 smugglers. He was sentenced to 30 years in federal prison in 1991, but he was released in 2003. Lanny Pinder, Claude's cousin, was reportedly a former Riviera Beach police officer and Florida Highway Patrol trooper.
Claude, Lanny, and Milton were the grandsons of Marmon Pinder, who moved from Long Island, Bahamas to Singer Island in 1908 to start a kingfishing fleet and family business. At some point, the family business changed from strictly fishing. Due to their strong associations with the Bahamas, the Pinder Ring was thought to have strong political connections in the islands that benefited their smuggling operations, to include suspicious financial activities with government officials.
In an interview after his release from prison, Claude Avon Pinder stated that 15,000 pounds of the marijuana smuggled from the Bahamas to Florida were actually owned by Michael Ray Roberts. The Pinder Ring just facilitated the importation of it, but Roberts reportedly blamed it all on Pinder to save himself.
In the next chapter, read the rest of the story about the Barker Family and Richard Barker's perspective of his life.
Robert C. Hutchinson was a former police chief and deputy special agent in charge with the U.S. Department of Homeland Security (DHS), Homeland Security Investigations in Miami, Florida. He retired in 2016 after more than 28 years as a special agent with DHS and the legacy U.S. Customs Service. He was previously the deputy director of the agency's national emergency preparedness division and assistant director for its national firearms and tactical training division. His numerous writings and presentations often address the critical need for cooperation, coordination, and collaboration between public health, emergency management, and law enforcement, especially in the area of pandemic preparedness. He received his graduate degrees at the University of Delaware in public administration and Naval Postgraduate School in homeland security studies. He is a long-time contributor to Domestic Preparedness and serves on the Advisory Board.