New problems call for new solutions. The definitions and parameters, in which emergency management, law enforcement, nongovernmental organizations, and others now work under, are inadequate to meet the new challenges of today. Furthermore, the old rules as to how and why to prepare simply do not apply anymore.
The current way of thinking depends heavily on top-down communications. Agencies and organizations are accustomed to gathering data, determining what the message should be, then disseminating it to the public. But with today's reliance on social media, news and information are more likely to be communicated through the lens of bystanders, at a much more rapid rate than traditional approaches. Stakeholders must embrace and learn to master management of social media.
Social Media & Preparedness Education
Social media provides efficient and effective solutions for pre-disaster engagement. Adam Crowe, director of emergency preparedness for Virginia Commonwealth University in Richmond, describes "6 Ways to Utilize Social Media Before a Disaster Strikes." Crowe says before an emergency or disaster strikes is the optimum time for emergency managers to engage their communities in public education, community preparedness activities, training, exercises, and advocacy. Traditionally, these components are handled in very resource-heavy ways, including educational booths, printed materials, public talks, and similar processes. Although these types of programs are somewhat effective, they often take a tremendous amount of staff time; they cost money to generate; and they are not necessarily environmentally friendly.
On a day when the situation is changing rapidly, as it does with flooding, people will be looking for information anywhere they can get it. It is important to keep in mind that there is a high likelihood that those searches will be occurring on a mobile device. According to the Pew Research Center, the growing ubiquity of cellphones, especially the rise of smartphones, has made social networking just a "finger tap away." Fully 40% of cellphone owners use a social networking site on their phones, and 28% do so on a typical day. There are many ways communities can reach their citizens with emergency information: websites, reserve calls, social media, and door-to-door (if necessary). It is important to keep in mind that no single source will reach all citizens. Younger people may search social media for news and information (as shown by the Pew Research Center results) and older individuals might not ever look at your website.
According to the American Red Cross, a 2010 survey asked 1,058 adults about their use of social media sites in emergency situations. It found that, when unable to reach 9-1-1 when needed, one in five would reach out to responders through e-mail, websites, or social media. When web users knew that others needed help, 44 percent would ask their social network to contact authorities, 35 percent would request help directly by posting on a response agency's Facebook page, and 28 percent would tweet direct messages to responders.
The failure of traditional preparedness efforts to effectively resonate with individuals and households is well documented. Estimates by the Federal Emergency Management Agency and others range from 50% to 70% of people having done nothing to prepare. Disaster apathy is even more prevalent, despite a significant increase in disasters worldwide.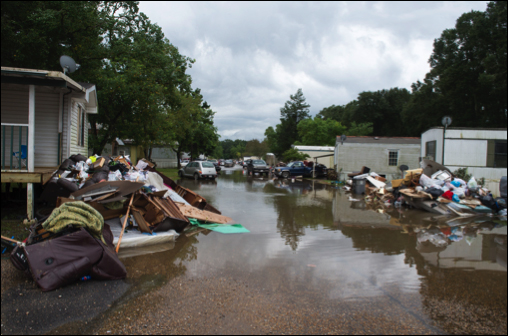 In his 2015 article, "Public Apathy in the Path of Preparedness," Geary Sikich asks whether business continuity and emergency planners are missing something when it comes to communicating preparedness with the public. The public has a problem that is simple to define: short-term memory loss and long-term memory incongruence, causing a divergence in retained memories and discounting what was experienced. To overcome this dichotomy, contradiction, and irreconcilable clash between public perception and reality, agencies and organizations teach crisis communications courses, prepare spokespersons, provide graphics and media to support, and emphasize the message that people need to be better prepared. Yet, for all these efforts, some members of the public continue to respond in the same manner – with apathy and distrust over the outcome (either positive or negative).
Only one in four Americans or less are concerned that an emergency like a terrorist attack, natural disaster, or health pandemic will affect their communities, according to a SUNYIT/Zogby Analytics Poll. The poll of 1,000 adults nationwide was conducted online on 8-9 May 2013 and has a margin of sampling error of +/-3.2 percentage points. A wide range of national security topics was covered. For example, in case of a neighborhood emergency, Americans expressed more confidence in their family's preparedness (53%) over local government (44%), their airport (41%), local school (39%), or employer (31%). In case of a national emergency, Americans are most trusting in local law enforcement in case of a shooting (58%), the FBI in case of a terrorist attack (53%), the Centers for Disease Control in case of a pandemic (49%), and the Federal Emergency Management agency in case of a natural disaster (45%).
Empowerment & Resilience
According to Nonprofit Technology Network, a new culture of disaster prevention will have to be created in the home, in school, in the workplace, and in society in general. The education to build up this new culture for disaster reduction must be permanent and integrative, and cut across all formal and informal educational efforts. It is unfortunate, however, that the concept of disaster risk reduction education is sometimes carried out with the notion of disaster professionals as "experts" presenting technical facts, figures, and analyses to "ignorant" citizens.
This has arisen out of a top-down approach to disaster awareness and education that gives "dos" and "don'ts" prescriptions for ordinary people. However, to be effective and integrating, it must go beyond the purely informative or instructive, and promote a new way of perceiving, feeling, thinking, and behaving. It must open the way to a new lifestyle integrating the individual, the environment, and society (see Table 1).
Table 1. A Tale of Two Approaches
Old Thinking
New Thinking

Disasters are natural events that exceed local capabilities
Top down communications
Preparedness education as an option
Emphasize training over behavior
Increase response funding
Manage recovery performance
Mitigate natural risks

Disasters are ALL events that compromise individual resilience
Bottom up communications
Preparedness education as a requirement
Emphasize behavior over training
Increase preparedness funding
Reward resilience performance
Mitigate personal risks
Furthermore, preparedness behavior cannot be changed easily, but integration into mandatory school-based curriculums, and even childcare programs will provide a greater sense of preparedness at an early age. Innovations such as game-based disaster learning and trauma-informed solutions should be embraced and funded in lieu of passive approaches of "get-a-kit" messaging. Less focus on managing recovery can be realized when people are better prepared to cope at the onset of a disaster. To empower people to prepare, the message must change and be truthful. For too long, mixed signals have said, "Prepare. But if you don't, don't worry. We'll rescue you." True resilience is about consistently improving, not just doing things because they are familiar. Stepping out of collective silos and embracing new ideas is often uncomfortable, but necessary to bring about meaningful, measurable change in preparedness behavior.
Vincent B. Davis, CEM, is Emergency Supply Solutions Consulting manager for Ready America, one of the nation's leading providers of disaster supplies. He joined Ready America in July 2016 following a stint as senior preparedness manager for Sony PlayStation. Before joining Sony, he was program manager of emergency preparedness and response for Walgreens Co. Following his career in the U.S. Air Force and Illinois National Guard, with 23 years in military public affairs, he served as: external affairs and community relations manager at the Federal Emergency Management Agency (FEMA); regional preparedness manager for the American Red Cross of Greater Chicago; and private sector consultant to the Illinois-Indiana-Wisconsin Regional Catastrophic Planning Team. He holds certifications as an Illinois Professional Emergency Manager and FEMA Professional Continuity Practitioner, and is a member of the International Association of Emergency Managers Children's Caucus and a lifetime member of the Black Emergency Managers Association. He authored, "Lost and Turned Out, A Guide to Preparing Underserved Communities for Disasters (Amazon 2012)," and the Native Emergency Communications Guidebook (Native Public Media) to be released in the spring of 2017 and founded PreparednessMatters.org Consulting. He also managing partner of PrepWorld LLC, creators of PrepBiz educational gaming APP for children.